Women break new ground in Uganda
Policy makers are taking note of CIFOR's action research, which has women stepping up for forest restoration – and stepping into the political arena
Plan, observe, learn: repeat.
This sums up how the Adaptive Collaborative Management (ACM) approach is clearing away obstacles between women and their legal right to plant, own and benefit from trees. In ACM, stakeholders who share an interest in a common resource agree to act together to plan, observe and draw lessons from their strategies.
The result? Together, the men, women and youth of six forest communities in Uganda are now managing their forest resources more equitably. Both they and the forests are benefiting – and policy makers are taking notice.
By combining research with action and working with both men and women, CIFOR and the non-governmental Association of Uganda Professional Women in Agriculture and the Environment (AUPWAE) have shown how discriminatory gender norms can shift within a few short years, allowing women to rise to the challenge of sustainable forest management.
Assets for women
---
Six times more women now own woodlots than before ACM, and the communities have restored 82 acres of degraded forest reserve.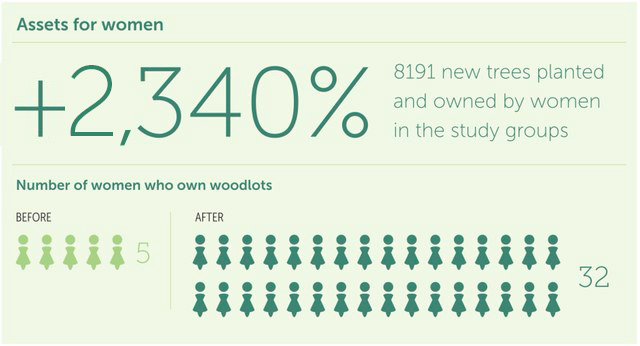 I used to be shy, but now my ideas are taken seriously in meetings … I now have an asset of trees which I never thought I would own.

Ms Enfrance Eyaliakumanyi, entrepreneur
Blog: A better way to sell Eucalypts
Breaking taboos
---
Women even started planting Ficus natalensis, a tree prized for its culturally important bark cloth, but traditionally reserved for men. Since planting it symbolizes land ownership, women were denied its benefits by tradition, if not by law.
I have been able to persuade my husband to allow me plant Ficus trees intercropped with my coffee, and I have now started earning money by selling bark cloth.

Mrs Paulina Nabasenya Mukwaya, entrepreneur
Blog: A once forbidden tree
Taking the lead
---
Over the course of the study, more and more women's voices were being heard at community meetings as perspectives shifted and confidence rose. More women took up leadership positions and ran for village and sub-county level political positions.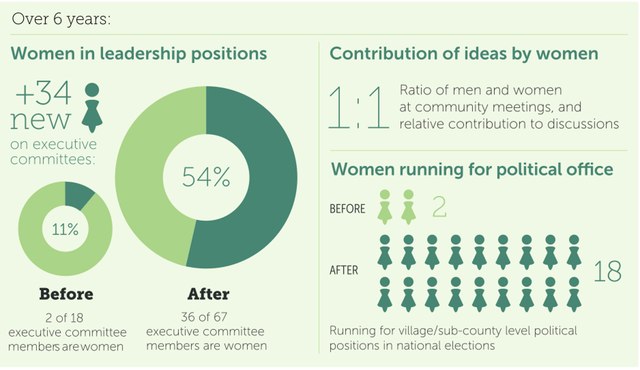 Young men and women also participated in the study – about 20% of the total membership – buying land or using part of their parents' plot. Taking their training one step further, some youth launched their own fish farms and internet cafés. 
Blog: Gender relations in community forestry
Making it policy
---
News of ACM's success spread to neighboring districts, and demand for the approach rose. But the very aspect that makes it effective – long-term, hands-on involvement of ACM facilitators – also makes it expensive. So CIFOR produced a field guide in both English and Luganda and publicized them on local radio.

CIFOR and AUPWAE presented their findings to members of Uganda's Parliament in October 2016. The Natural Resources Committee Chair, noting the gap between women's legal rights and actual practice, recommended increasing the budget for tree-planting and forest management, rolling out ACM at district level, and establishing women-managed nurseries at the sub-county level to increase tree stocks.
Equally inspired, the National Forestry Authority has cut the long process of community registration by about one year, and CIFOR has been asked to inform the revision of its participatory forestry guidelines to ensure they are gender-responsive.
The results of the ACM methodology are real and interesting.

Paul Buyera, Director of Corporate Affairs for the National Forestry Authority
Photo by J.B. Wandera/CIFOR.
---
---