Tools for learning
Oil palm game reaches new heights in Cameroon
Imagine the hurdles facing smallholders in Cameroon's oil palm industry who struggle to adopt environmentally sustainable practices: lack of money, lack of time, limited transportation, power struggles, etc.
A group of high-level policy makers did just that in early 2016, thanks to a game designed for the Oil Palm Adaptive Landscapes (OPAL) project. In a one-day workshop, eight members of the Cameroonian Palm Oil Supply Chain Regulation Committee played the CoPalCam game, making decisions at all levels of the supply chain.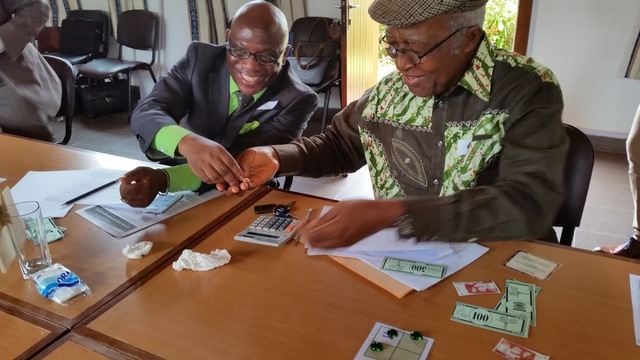 The result? A lot of laughter, along with a better understanding of the impacts of producers' strategies. The committee members asked to repeat the exercise to explore the issues more deeply, and suggested the game be used as part of an awareness-raising program run by the national government and WWF Cameroon.
The game has been repeated in Zurich with industry representatives, Swiss stakeholders and non-governmental organizations involved in conservation and sustainability (Greenpeace, International Union for Conservation of Nature, United Nations Environment Programme and others), as well as with students at the Lycée Français Marie Curie.
This kind of workshop was truly necessary to sensitize not only producers and processors, but also their institutional partner, the State, which has an important role to play and which was strongly represented.

Jacquie Kemleu Tchabgou, Secretary General, Association of Oil Refiners of Cameroon
Photo by M. Edliadi/CIFOR.