Tools for learning
Protecting biodiversity and training future forest experts in the Congo
Kisangani is a city deep in the tropical forests of the Democratic Republic of the Congo (DRC), a 2,000-kilometer journey from the capital, Kinshasa, along the Congo River or via the occasional flight. Its university was the country's only institution with forestry experts – which, 10 years ago, amounted to six people. Civil war and emigration had taken a major toll on the people and forests of the region.
Yet DRC has the second-largest swath of rainforests in the world, around 86 million hectares. In 2006, with the support of the European Union, CIFOR launched a project to both protect forest biodiversity and boost local expertise to carry out this task.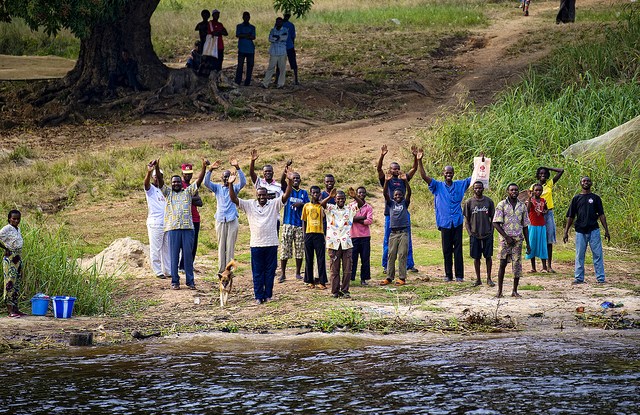 The centerpiece of this effort has been a series of activities that are now continuing with the 'Training, Research, Environment in the Tshopo (province) project', known as FORETS. It focuses on Yangambi, a 250,000 hectare UNESCO biosphere reserve, and on the University of Kisangani.
CIFOR has worked successfully with the University of Kisangani over the past 10 years to increase the number of students pursuing Masters or PhDs in biodiversity and forestry management. By the end of 2016, about 134 MSc and 76 PhD students had completed or were in the process of completing their curricula.
Clearing the way for a new generation of forest experts

---
Traditionally, few women enroll in science programs at Kisangani, but their numbers are growing. Consolate Kaswera Kyamakya completed her PhD during an earlier phase of the project, and spoke in 2012 about the challenge of pursuing science as a woman: "Here at the university there are not even five women professors. So I said to myself: 'I have to try. I have to fight to get to this level'. If I am an example for other girls, this will be a good thing."
Today, Professor Kaswera Kyamakya is leading a new cohort of men and women toward careers in forest management.
For me, this postgraduate program truly 'closes the gap'. Young people are graduating at age 25 and already making enormous contributions to society. As far as women are concerned, my role is to encourage ambitious girls to work hard until graduation instead of marrying prematurely. I'm often asked how I reconcile motherhood and professional life: I do it with joy in order to show these young people that they can get there if they want to.

Consolate Kaswera Kyamakya, Associate Professor, Faculty of Sciences, University of Kisangani
The fourth phase of the project is underway, with a new intake of MSc and PhD students and new research projects in and around the Yangambi Reserve.

FORETS project goals

---
Promote exceptional biodiversity of Yangambi Reserve.
Boost sustainable agriculture, forestry and ecosystem services around the Reserve.
Reduce deforestation in and around the Yangambi Reserve.
Increase carbon storage through reforestation, protection and improved management.
Communication and outreach for greater impact
---
FORETS emphasizes communication, aiming for audiences ranging from local people in the Yangambi area to NGOs, national policy-makers and international donors. Working in French and English, outreach elements include:
Media training;
Radio programming, in partnership with local radio stations;
Media engagement (cultivating Green Journalists Network contacts, regional and international);
Newsletters to highlight project progress and news, and emphasizing increased visibility of Congolese institutions.
Photos by O. Girard/CIFOR.
---